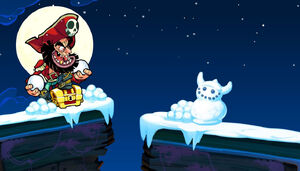 Snowbrawl is one of the gamemode available in Brawlhalla. It can be played in Custom Online matches and is sometimes available as the Brawl Of The Week during the Brawlhallidays Event and Heatwave Event.
Mechanics
[
]
The Snowbrawl gamemode is very similar to the Timed gamemode - each match lasts a certain amount of time (usually 3 minutes), and players will earn +2 points for getting KOs and lose -1 point for getting KO'd. The difference in Snowbrawl is there are no weapons, and every player is always holding a Snowball. Snowballs can be thrown using the light attack, heavy attack, or throw buttons, and will inflict massive damage and knockback to opponents. After throwing a Snowball, the player will automatically hold another Snowball. The player with the most points by the end of the match wins.
As the player is always holding a Snowball and heavy attacks throw the Snowball, it is impossible to perform a recovery in this gamemode.
During the Heatwave Event, the Snowballs in Snowbrawl are replaced with Water Balloons.
See also
[
]