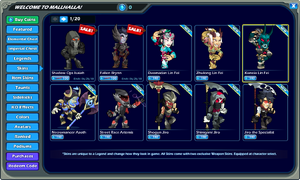 Skins are cosmetics that are unique to a Legend, and change how they look in game. Skins can be obtained in several ways, with most being purchasable from the Store for

mammoth coins. They can be equipped at the character select screen. All skins come with two unique Weapon Skins.
In addition to regular skins there are Epic Skins, Epic Crossover Skins and Progression Skins. These are priced higher but can contain unique vanities, such as animated Weapon Skins, custom Signature FX or a dedicated roster spot.
When a new Legend is released, that Legend will receive three skins. Legends can receive new skins with any update, with most skins releasing during Events and new Battle Passes.
List of Skins
[
]
To quickly get to a Legend in this list, use the Table of Contents above.