Glory is in-game currency earned from your peak ELO and total amount of wins in Ranked at the end of a season.
Just like Gold and Mammoth coins, it is used to purchase various Cosmetics. Presently, the rewards available for Glory are Skyforged Legend colors and Skyforged Weapon skins, which can't be obtained in any other way. To see individual skins and colors, please visit individual Legend and Weapon pages.
In addition to Glory and the rewards that come with it, players who attain a Rank of Gold or higher also gain Ranked borders and avatars appropriate to their rank level. Ranked borders are displayed around your Legend before every match, and show your highest achivement in the previous Ranked season. This can be disabled in the Options screen.
Glory calculations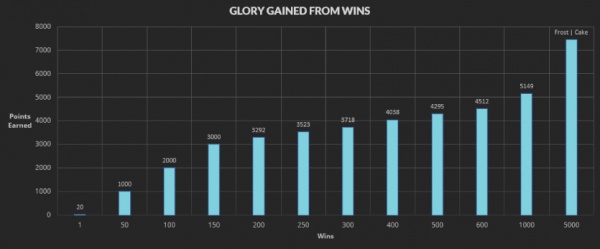 posted by Raidhyn as part of the Patch 2.29 patch notes on Sept 21, 2016
Glory earned is based on a combination of your Peak Rating (highest 1v1, 2v2, team, or Legend rating/elo) and total Wins. This was designed in order to reward both skill and dedication for those who pursue Glory.
Glory Calculator
A BMG-made tool to calculate the amount of glory you will receive based on the total number of ranked wins and your peak ELO. Found here.
Glory from Wins
You gain 20 Glory per win, up to 150 wins which gets you 3000 Glory. After 150 wins, each subsequent win gives you slightly less.
Glory from Peak Rating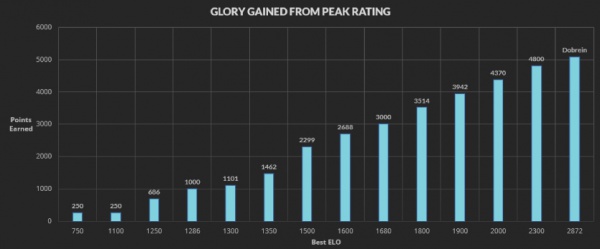 There is a minimum requirement of 10 games played to be eligible for Glory based on your rating.
Glory from Previous Seasons
If you participated (5+ games) in any seasons prior to Season 1, you received 2500 additional Glory, but only once.
See also
Community content is available under
CC-BY-SA
unless otherwise noted.