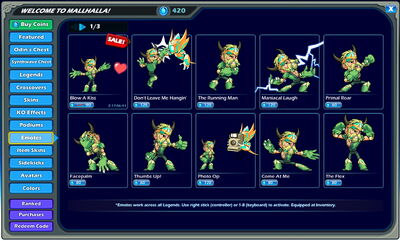 Emotes (formerly known as Taunts) are a type of cosmetic item available in Brawlhalla. Generally available through purchase in the Store, up to 8 can be equipped at a time and can be used by any Character.
There are two types of emotes: regular emotes which one player performs, and team emotes which allows a second player to join in if they emote near the emoting player.
List of Emotes
[
]
Store Emotes
[
]
The following emotes are acquired by direct purchase from the Store.
Battle Pass Emotes
[
]
The following emotes can be earned as rewards from battle passes.
Other Emotes
[
]
The following emotes can only be acquired through various means other than direct purchase or battle passes.
Unusable Emotes
[
]
Additionally, three animations exist that can not be acquired as actual emotes, but are categorized as emotes in the game files.
Slow Clap
Default taunt used for defeated players on the post-game results screen.
Roof Dance
Plays on the post-game match rewards screen if the player's Legend levels up.