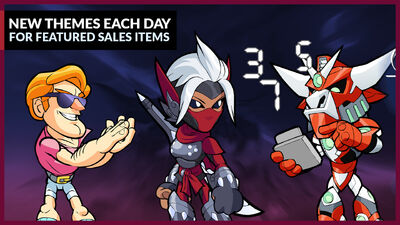 Brawl-d Lang Syne is a unique mini-event that occurred from January 6 to January 12, 2021, during the final week of the 2020 Brawlhallidays Event.
For each day of the event, a different set of items are placed on discount in the Store, each set based on a theme. This is very different from normal discounts, as they usually are selected at random and last for a week.
The name of the event is a pun on "Auld Lang Syne," a song typically used to welcome the new year.
Discounts
[
]
Ninja Theme - January 6
[
]

Mecha Theme - January 7
[
]

Atlantean Theme - January 8
[
]

Demon Theme - January 9
[
]

Well-Dressed Theme - January 10
[
]

Darkheart Theme - January 11
[
]

Fangwild Theme - January 12
[
]

Links
[
]