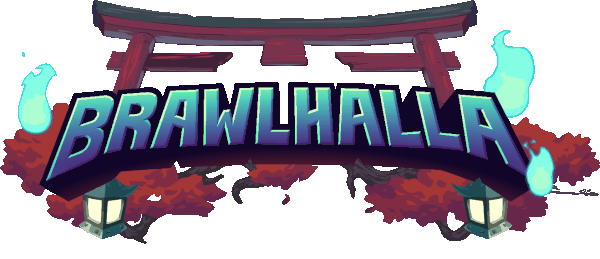 Brawlhalla's first Battle Pass was themed around Demon Island, home to the Demon Bride Hattori. The Battle Pass started on May 5, 2020, and ended on August 12, 2020, with 85 tiers of progression.
Rewards
[
]
Missions
[
]

The Battle Pass offers rewarding challenges to complete in the form of General and Weekly Missions.
General Missions are completed in order to unlock new cosmetics or, in the case of the Battle Points Mission, earn Battle Gems. Weekly Missions are completed mainly to earn Battle Gems.
General Missions
[
]
| Mission | Amount | Reward | Notes |
| --- | --- | --- | --- |
| Earn Battle Points | Variable | Variable | Can be completed 100 times. Each time requires more Battle Points and rewards more Battle Gems. |
| Spirit Temple - Level 2: Get KOs | 200 | Spirit Temple Lvl. 2 | Cannot be completed in special gamemodes or custom game rooms. |
| Spirit Temple - Level 3: Get KOs | 500 | Spirit Temple Lvl. 3 | Unlocked after obtaining Spirit Temple Lvl. 2. |
| Obake Petra - Level 2: Get Wins | 50 | Obake Petra Lvl. 2 | |
| Obake Petra - Level 3: Get Wins | 150 | Obake Petra Lvl. 3 | Unlocked after obtaining Obake Petra Lvl. 2. |
Weekly Missions
[
]
Category
Mission
Amount
Reward
Tooltip
Spear KOs
15
6
Catch fresh Items before they hit the ground
15
8
Both Gadgets and Weapons count. Must be picked up after spawning but before touching the ground. Weapons carried by Sidekicks do not count.
Gauntlet Legend wins
15
10
Win matches as Asgardian Legends
Once
4
These are Legends that were born in Asgard and did not arrive from another plane.
Get KOs with Gravity-Canceled Attacks
8
10
To Gravity-Cancel an Attack, perform a neutral dodge in the air and perform an Attack during the Dodge.
Hit multiple opponents with a single Gadget
Once
10
Hitting the same opponent multiple times with the same Gaget does not count.
Orb Damage
5000
12
Bonus
Complete Missions
4
3
Category
Mission
Amount
Reward
Tooltip
Perform Forward Dashes
150
6
Perform Back Dashes
25
6
Axe Damage
5000
12
Cannon KOs
15
6
Get a KO in all 4 directions
4
8
Top, bottom, left, and right.
Blaster Legend wins
15
10
Signature Attack damage
5000
12
Signature Attacks are the unique Heavy Attacks that Legends use with each Weapon. Unarmed Heavy Attacks do not count.
Bonus
Complete Missions
4
3
Category
Mission
Amount
Reward
Tooltip
Grapple Hammer KOs
15
6
Be the first to say 'GG'
25
8
In the post-match Scoreboard screen.
Orb Legend wins
15
10
Deal 250 damage each with 2 Weapons in a match
5
6
First Strikes
10
6
Katars Damage
5000
12
Light Attack damage
20000
12
Bonus
Complete Missions
4
3
Category
Mission
Amount
Reward
Tooltip
Gauntlet KOs
15
6
Get 5 KOs in a match
7
8
Gain Elo of any kind in Ranked matches
300
10
Legend and Team Elos also count.
Perform Dash-Jumps
30
6
Jump right after Dashing to perform a Dash-Jump.
Ground Pound KOs
40
8
Aerial Down Heavy Attacks
Scythe Legend wins
15
10
Sword Damage
5000
12
Bonus
Complete Missions
4
3
Category
Mission
Amount
Reward
Tooltip
Taunt with opponents
1
6
Axe KOs
15
6
Bow Damage
5000
12
Catch Gadgets thrown by opponents
1
8
Hit with 6 different Signature Attacks in a match
15
8
Signature Attacks are the unique Heavy Attacks that Legends use with each Weapon. Unarmed Heavy Attacks do not count.
Katar Legend wins
15
10
Double KOs
10
10
Bonus
Complete Missions
4
3
Category
Mission
Amount
Reward
Tooltip
Orb KOs
15
6
Win matches in different matchmaking queues
4
8
Brawl of the Week counts.
Rocket Lance Legend wins
15
10
Hit below-stage opponents with Light Attacks
25
6
Being below the top of the main platform on a stage counts. The opponent does NOT need to be below the lowest wall as well.
Grounded Light Attack KOs
5
8
Dash-thrown Weapon KOs
1
10
Throw right after Dashing to get a high speed Dash-Throw. Throwing after a Dash-Jump also counts.
Scythe Damage
5000
12
Bonus
Complete Missions
4
3
Category
Mission
Amount
Reward
Tooltip
Bow KOs
15
6
Recovery Attack KOs
25
8
Aerial Neutral or Side Heavy Attacks
Get KOS within 10 seconds of respawning
5
10
Interrupt opponent Signatures with Weapon throws
3
4
Signature Attacks are the unique Heavy Attacks that Legends use with each Weapon. Unarmed Heavy Attacks do not count.
Random Legend wins
12
10
Sword Legend wins
15
10
Cannon Damage
5000
12
Bonus
Complete Missions
4
3
Category
Mission
Amount
Reward
Tooltip
Grab the other team's initial Weapon spawn
3
6
At the beginning of team games, a Weapon will spawn on each side of the map. Pick up the one that spawns on the side that your opponents started on.
Perform Chase Dodges
25
6
Perform a dodge up, down, or toward the opponent shortly after hitting them to perform a Chase Dodge.
Spear Damage
5000
12
Rocket Lance KOs
15
6
Dominate
3
8
Get 3 KOs in a single life.
Grapple Hammer Legend wins
15
10
Get a KO in a 1v1 match before taking 50 total damage
1
12
50 damage total. Respawning does not reset this.
Bonus
Complete Missions
4
3
Category
Mission
Amount
Reward
Tooltip
Win 2v2 matches as Legends that knew each other
1
4
Legends that knew each other before either arrived in Valhalla.
Disarm opponents
50
10
Cannon Legend wins
15
10
Katars KOs
15
6
Be the first player to pick up an item
20
8
Down Signature KOs
25
10
Signature Attacks are the unique Heavy Attacks that Legends use with each Weapon. Unarmed Heavy Attacks do not count.
Gauntlets Damage
5000
12
Bonus
Complete Missions
4
3
Category
Mission
Amount
Reward
Tooltip
Perform Team Combos
10
6
Hit an opponent while they are still stunned from a teammate's Attack.
Blasters KOs
15
6
Grapple Hammer Damage
5000
12
Emote on Kor's Platform
1
4
A thankless profession, but Kor's just humble like that.
Bow Legend wins
15
10
Side Signature KOs
25
10
Signature Attacks are the unique Heavy Attacks that Legends use with each Weapon. Unarmed Heavy Attacks do not count.
Get 2 KOs with Ground Pound Attacks in a match
6
12
Aerial Down Heavy Attacks
Bonus
Complete Missions
4
3
Category
Mission
Amount
Reward
Tooltip
Sword KOs
15
6
Hit opponents into armed Pressure Mines
1
8
The mine does not have to have been set by you or a teammate. Any mine will do!
Slide-charged Signature KOs
5
10
To Slide-Charge a Heavy Attack, start charging it while running toward the edge of a platform so that you will fall off while still charging the Attack.
Perform 4-hit Strings
10
6
Get hits on opponents within 4 seconds of each other without getting hit.
Win matches with each Stance type
5
8
Base, Strength, Dexterity, Defense, and Speed. Does not have to all be with the same Legend. Can only progress on one per match.
Axe Legend wins
15
10
Rocket Lance Damage
5000
12
Bonus
Complete Missions
4
3
Category
Mission
Amount
Reward
Tooltip
Scythe KOs
15
6
Interrupt opponent Recovery Attacks
30
8
Aerial Neutral or Side Heavy Attacks
Spear Legend wins
15
10
Grab Weapons as they're being carried by your Sidekick
5
6
Use your Sidekick Summoner Gadget to have your Sidekick deliver you a Weapon, and pick it up before your Sidekick drops it.
Perform True Combos
25
8
Hit an opponent and then hit them again with another attack while they are still stunned.
Neutral Signature KOs
25
10
Signature Attacks are the unique Heavy Attacks that Legends use with each Weapon. Unarmed Heavy Attacks do not count.
Blasters Damage
5000
12
Bonus
Complete Missions
4
3